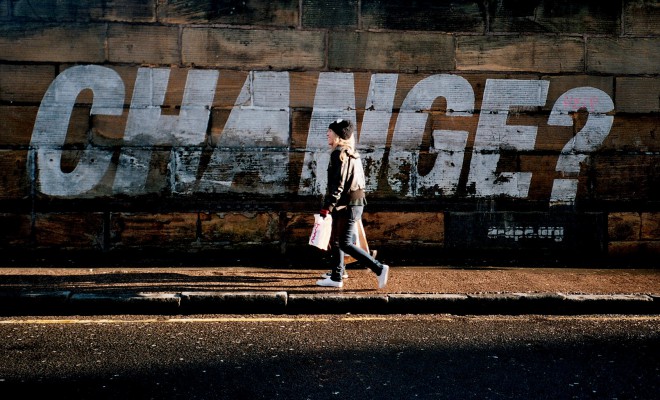 Change? by SomeDriftwood is licensed under CC BY-NC 2.0
Innovation Roadtrips
What the Innovation Roadtrips are all about
By
|
One of the things we (as in: people in the media business) are really good at is thinking that we are special. That it is only our business being disrupted; that no other industry feels the pains and faces the challenges we do.
That often leads us to watching our immediate competitors closely and copying their moves, but rarely venturing out to see how other countries, cultures and industries are coping with change and are embracing innovation. We become competitor-focused instead of customer-focused, a move that makes us slow and complacent. And we miss the chance to learn from other industries and people who recently faced similar challenges.
Since we came back from our year in the US in 2012, a question became dominant in our lives: What people, infrastructure and circumstances does innovation need? How can creativity and "out of the box"-thinking be fostered in existing or new entities? How do we change our perspectives to adapt to new conditions, and how might we help our teams or others to do the same?
We both took a different approach to these issues: Working to change organizations from the inside (Anita), trying the same from the outside (Klaus). We both learned a lot in those years. We succeeded with many things, but we also failed with others.
Innovation needs dedicated people
And we became convinced that there is a part in the innovation discourse that is often left out, but really important: The part about the people involved. You can buy the newest gadget and software for your company, but if you don't help the people who are supposed to use it change their ways, it won't be money well spent. You can get consultants and advisors on board, but they will be bound to fail if you are not willing to redesign your organizational structure and habit. You can talk about innovation, but it won 't have impact unless you as a leader are willing to change yourself and give people freedom for creativity. This goes for cities as well as companies, for start ups as well as corporations, for universities as well as other communities.
So what is our plan for the next three months?
We will do Innovation Roadtrips that take us to places we feel we (and our readers/followers) can learn from. We like to call it: The search for the DNA of innovation. We will talk to people who managed to change their point of view on the business they are doing, to organizations who drive change in their community, to change makers and designers, managers and city councils, leaders and founders. We will be industry-agnostic, meaning that the focus on innovation and change is the path that will guide us, not a single cluster of the economy. (But given our personal interest, you can expect some media related posts, too).
We will use this blog to write about our findings, and we hope to get as many hints und suggestions from the social media community as well.

The trip and how you can be part of it
Our first trip starts on February 10th, and it will take us to:
Malmö, Sweden – Copenhagen, Denmark – Amsterdam, The Netherlands – San Francisco, California – Austin, Texas. If you are from one of those places, or know an innovator we have to meet there, please be in touch – we'd love to hear from you! During our trip, we will also show you the places we visit on a map.
Until then, we will publish some blogposts about our view on change and innovation and elaborate on some of the questions we ask ourselves. We are going to search for the DNA of innovation, and we are excited if you want to be part of that search.